Narcissistic personality disorder (NPD) is an extremely disruptive mental health condition in the lives of those who suffer from it and their loved ones. Because of the specific nature of this condition, it is often difficult to get a narcissist to agree to pursue treatment.
They are externally validated through the false self image they have created. To admit they have a problem is anathema to their entire mindset. It can, in fact, create a crisis for them; one that can result in significant decompensation. For these reasons, if the narcissist in your life does agree to seek treatment, you need to know what kinds of treatment programs are available that will give you the best chance for success. 
I've put together a list of 10 mental health treatment programs that rank among the best for NPD: 
Bridges to Recovery
Promises Behavioral Health
Psychological Care and Healing Center
Westwind
Sana Lake Recovery
D'amore Mental Health
Plumm (formerly Healing Clouds)
Self-Help Journey
Love and Life Toolbox
Online-Therapy.com
You have to choose what works best for you and your loved ones, but to do that, you need to know some of the specifics about why these facilities are among the best for treating this complex mental health condition. Let's dive into the details to learn more. 
This program is accredited by the Joint Commission which is the body that sets the standards for quality of care and patient safety. Their primary philosophy is to offer intensive, integrative, and holistic therapeutic programs for people suffering from a variety of mental health disorders. They are located in Los Angeles, but because of their reputation for excellence, they receive patients from all over the world. 
They offer specialized treatment programs for the mental health conditions they treat including narcissistic personality disorder. Their clients participate in at least five (5) individual psychotherapy sessions each week in addition to group and holistic therapies. All of their therapists have advanced degrees and are licensed. 
They have a minimum, required 30-day length of stay, but they note the average length of stay at their facility is 60 days. For narcissists, they offer cognitive behavioral therapy, which has been cited as the best type of therapy for NPD, psychodynamic therapy which helps the narcissist explore their past experiences, and family therapy to assist in the healing process for the loved ones of narcissists. 
Promises Behavioral Health has a simple mission: to provide attainable, affordable, and accessible mental health and substance use treatment. They utilize evidence-based clinical therapies to achieve that goal. They specialize in treating mental health and substance abuse disorders. They are experienced at treating comorbidities as well. 
They employ a neurobiological focus and their treatment strategies are informed by the latest scientific research available. They understand that addiction and trauma can significantly change the brain, and their interventions focus on healing the brain and developing new neural pathways. 
For NPD, they utilize an individualized approach that includes talk therapy where patients learn to be more accepting and maintain real relationships. They also help narcissists to regulate their feelings and learn to accept criticism all while exploring the core issues that relate to low self-esteem. They may also prescribe medications for anxiety and depression as required. 
This mental health program begins by carefully assessing the patient by a highly qualified mental health team. The goal is to utilize their extensive understanding of developmental psychological trauma along with the most relevant treatment plans to help reorient the maladaptive behaviors that result from those early experiences. 
They also believe in avoiding stigmatizing labels, and for that reason, they often discard previous treatment constructs that result from inappropriate diagnoses, something common with narcissism. Moreover, they prefer to minimize or eliminate altogether any medications the patient has been taking. 
From there, they offer individual psychotherapy, somatic experiencing, group therapy, mentalization, and mindfulness-based stress reduction. They also utilize dialectical behavioral therapy (DBT), anger management therapy, sleep management, and psycho-education to help the patient explore the core causes of their condition and adopt better coping strategies. 
Finally, they utilize holistic therapies such as meditation, trauma-informed yoga, acupuncture, and massage therapy as needed. They also offer family therapy groups that incorporate the narcissist's loved ones in the treatment process. 
This Los Angeles based treatment center employs talk therapy to help patients explore the childhood trauma that contributes to this complex mental health disorder. Together with their counselor, patients will work through those early experiences to better understand their feelings and how their behavior can affect their loved ones. 
Additionally, they learn to deal with criticism and negative emotions using healthier coping strategies. This center also offers treatment for patients suffering from co-occurring mental conditions such as depression, anxiety or substance abuse. The counselors focus on helping the patient manage multiple conditions at once.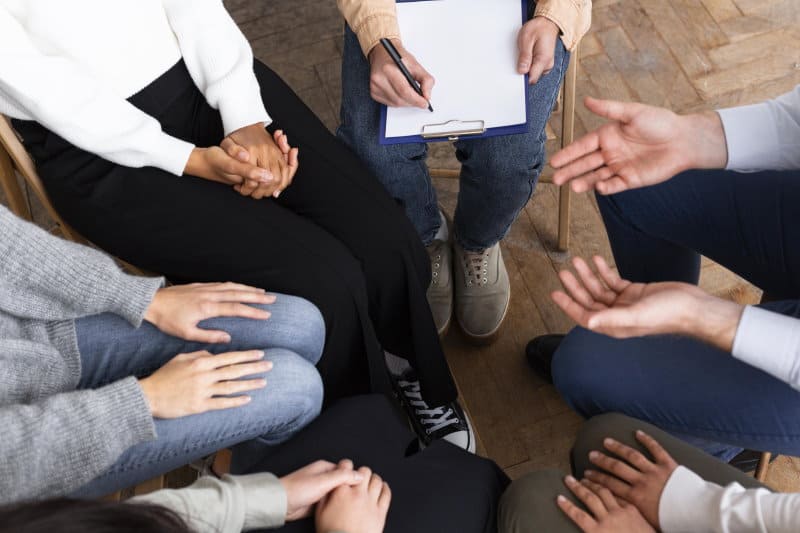 This facility utilized a "whole person" approach to treating narcissistic personality disorder. They fully assess the patient for NPD and any co-occurring disorders. After that, they construct an individualized therapy program to treat the entire person. 
They utilize talk therapy to help narcissists gain a more realistic view of self and learn more appropriate social skills to relate to others. The long-term therapy program helps patients understand and accept how NPD has damaged their lives and kept them from living up to their full potential. It is through understanding that patients can build positive relationship skills. 
The therapists at Sana Lake are careful in their approach to treating NPD and work with the patient to help them identify the specific actions and attitudes that cause problems. They utilize evidence-based treatment therapies including cognitive behavioral therapy, psychodynamic therapy, and family therapy in combination with holistic therapies like Yoga, meditation, mindfulness, journaling, and breathing techniques. 
This treatment facility in Orange County, California, offers specialized training for narcissists. They utilize dialectical behavioral therapy (DBT) to focus on distress intolerance, mindfulness, and relationship skills. They help the narcissist to recognize their behavior and make the appropriate changes. 
Another therapeutic technique they use is metacognitive interpersonal therapy which is specific to the treatment of NPD. This involves two stages with the first being the stage setting to help the narcissist understand their ongoing patterns. The second stage is the change promoting stage to help the patient see the situation from a different angle and utilize healthier methods to respond. 
Finally, they also use transference-focused psychotherapy to help the patient understand the roles of themselves and the clinician in determining the best treatment plan. They also may utilize antipsychotic medication for those individuals experiencing cognitive-perceptual disturbance or issues of impulsive aggression and anger such as paranoid thoughts, hallucinations, and depersonalization. 
Plumm offers online mental health therapy sessions focused on holistic methods for healing the mind, body, and spirit. They have over 150 licensed practitioners from around the world who speak 15 different languages to help you with different types of therapy. 
Some of their therapeutic methods include Reiki, Pranic healing, hypnosis, and neuro-linguistic programming. They are also happy to offer counseling before you suffer a mental breakdown, and they are devoted to helping those people who are trying to improve themselves and heal emotional, behavioral, or even monetary problems. 
Self-Therapy Journey, or STJ, also offers online courses that patients can work through at their own pace. That allows them to heal personal wounds so they can discard the old patterns that no longer suit them and discover and use their true potential. 
Patients are taught a five-step process for regaining their psychological health in the privacy of the online environment. They divide their course into three main areas: 1) psychological problems such as shyness, anger, and your inner critic; 2) emotional wounds such as shame and abandonment as well as guilt or feeling like you're unlovable; and 3) healthy capacities which includes problems with intimacy, social confidence, and self-esteem. 
Patients take a quiz to be assessed before starting, and they can then begin their healing journey. The content has been created by licensed professionals who are knowledgeable in a variety of mental health specialties.
This site offers a series of therapy-at-home workbooks which can help you focus on emotional and relationship health. The products range in price from $20 to $80, and they are designed to help you break unhealthy relationship habits. 
The site also offers therapy books for healing old wounds including family of origin wounds which create many narcissists. There are also resources for inner child work and healing childhood abuse. The resources are all written by licensed professionals, many of whom suffered the same trauma they are writing about. 
Finally, the site has recently begun offering online courses as well as the workbooks for healing emotional wounds and improving your psychological health. 
This site specifically offers cognitive behavioral therapy in the online environment. This is the most promising type of therapy for narcissistic personality disorder. It challenges you to identify and overcome those dysfunctional thoughts, emotions, and behaviors. 
The site offers worksheets, live chats, the ability to connect with a therapist online, a journal and activity planner, and even yoga for helping to reduce stress and anxiety. It's a complete online toolkit for therapy, and because it's based entirely on cognitive behavioral therapy, it's one of the better choices for narcissists. 
Final Thoughts
Everyone is different and has to choose the mental health program that best suits their needs. Before you can do that, however, you have to explore the available options. These ten programs use evidence-based, personalized treatment programs for helping narcissists recover from this devastating personality disorder and treat any comorbidities they might have. It's worth your while to explore the various programs available to give yourself or your loved one the best chance for success. 
With greater insight into some of the best mental health programs available, you'll also surely want to watch this post about how counseling can help a narcissist. It will help you understand the types of therapy that are available and how successful they are in treating this condition.