A narcissistic mother abuses her children in many different ways, but one of the most toxic things she does is tell them lies that affect their lives for years to come.  Narcissistic mothers program their children early in life to be dependent upon them for validation. They tell them that their own worth is tied to that of their family's, particularly their mother's, reputation. 
Your narcissistic mother also likely made it clear that your sense of value depended largely upon how well you served her needs. In this way, she made it clear to you that love is conditioned upon her approval of your performance. 
The childhood conditioning you receive from such a mother is difficult to rise above, and it takes years of inner work to unravel the myriad falsehoods your mother embedded in your psyche. Read on to learn about five toxic lies narcissistic mothers tell their children.
Common Narcissist Lies
Understanding your mother's manipulative behavior can help when you're trying to heal from her narcissistic abuse. Here are five toxic lies she told you to manipulate you as a child:
1. Your Worth is Dependent Upon Conditional Circumstances
Your narcissistic mother programmed you to believe that you are not inherently worthy of love or happiness. Rather, she told you, in many direct and indirect ways, that your worth depends on what you can do for her and how well you behave. 
She is focused solely on her image and how she appears to the world. Remember that her own sense of self-worth requires constant external validation. Since you play a big role in her reputation, it is critical that you behave in a way that reflects her superior parentage. 
Toward that end, she micromanages your behavior so that you won't reveal what is truly going on behind closed doors. In the privacy of your home, your narcissistic mother can reveal her true self. She has no problem emotionally, and perhaps physically, abusing you if you don't comply with her wishes. 
Through the years of emotional and psychological abuse, it's no wonder you came to view your own worth as something conditioned upon how well you are able to perform. The lie she told you is that you are only an object whose role is to serve her selfish agenda.
2. You Will Never Be Enough
Because of your mother's narcissism, you will never be able to do or say enough to fill the void inside her. You can't behave well enough or say the right thing enough to earn her praise. 
You also will never be able to behave correctly enough or be 'perfect' enough as a child to satisfy her. Moving the goalpost is a common ruse of the narcissist. She might tell you to do something, and even if you do it in an exemplary manner, she will never praise you for it. 
She can't be genuinely proud of you nor can she praise you for some successful achievement. To do so would take the focus off of her, and that's why if you are successful, your efforts will likely be met with envy rather than pride and praise. 
Your success is a threat to your narcissistic mother because it might lead to your independence, and that is the last thing she wants. She might even attempt to sabotage your success and happiness. 
In her mind, you were born to do her bidding and reflect her success, nothing more. To achieve your own goals is a threat to her self-identity, and thus, she will do everything she can to convince you that you will never be enough. 
3. You Must Defeat the Competition
Not only must you defeat the competition, the competition is everyone, even your own family. Narcissistic mothers are masters at turning siblings against one another. She views her children as nothing more than extensions of herself, and they must always serve her own needs.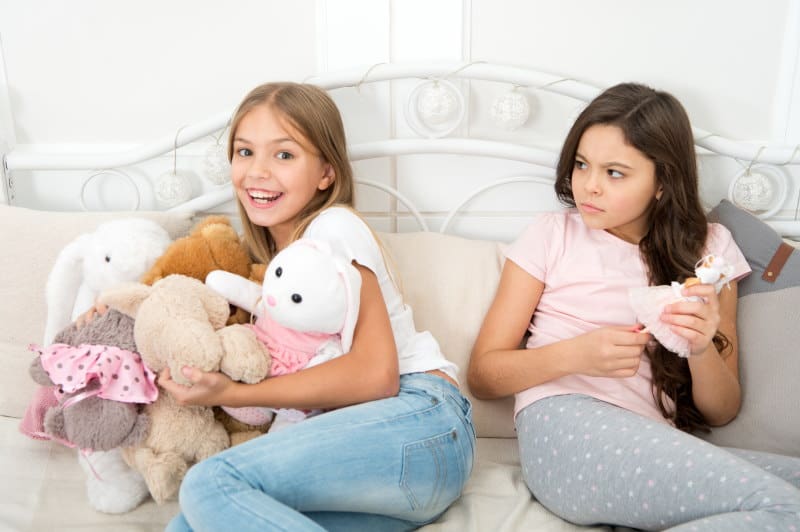 To ensure that's what they do, she will use triangulation to pit them against each other. In this way, she controls and manipulates the communication between them. By doing so, she encourages their competition with one another.
She will also pick one child to be the golden child and the others are scapegoats. She might occasionally reverse those roles to meet her agenda. It is a constant competition to earn her praise. That keeps the focus on her and conveys the message that everyone is your competition. It also reinforces the lie that your self-worth is dependent upon behaving in an approved way. 
4. Love is a Battlefield
For the children of a narcissistic mother, love is truly a battlefield where sometimes you're embraced, and at other times, you're contemptible. One moment you feel loved and the next moment, you feel terrified. 
You come to view love as something that includes condescension, contempt, and even hatred. It is rarely comforting and frequently hurtful. Above all, it is frightening and unpredictable. 
You have to constantly be afraid of displeasing others, and your mother's emotional and psychological abuse has conditioned you to associate love with abuse. That has a devastating effect on your adult relationships since you seek out what is familiar in your intimate partners. 
5. What You Feel is Not Valid
For your narcissistic mother, the only emotions that are valid are hers. In her mind, you don't have a right to your own feelings — you are simply an extension of her. 
This can cause you to go to extremes; you might either become a wild child or a repressed, numb, expressionless child. Either is overwhelming since you're not able to process your emotions in a healthy way. 
This kind of abuse also leaves you feeling as though you can't trust your own perceptions and emotional responses. Learning to believe in yourself as well as how to recognize and process your feelings is possible, but it takes a concerted effort to develop self-awareness and begin the healing process. 
Final Thoughts
Children of a narcissistic mother have a difficult time recovering from these toxic lies. They are programmed from an early age to believe they don't have a right to their own feelings and that they must behave in a certain way to earn love. 
This programming is all you know as normal from early in life. To undo it, you must first recognize it as abnormal, and begin the process of healing to grieve the loss of your childhood and learn to embrace the truth about your own self-worth and identity. It can be a long process, but it is richly rewarding. 
Lying is a common tactic by all kinds of narcissists. To learn about more of the common lies you'll hear from them, check out the article, "The 9 Most Common Lies of a Narcissist."